Details on each payment plan
Mammoth Project is available in Basic Online version (credit card payment/business contract), On-Premise version, and Private Cloud version.
Please choose the version that fits your budget and security needs.
Please check our FAQ or contact us directly for inquiries.
Basic Online Version 500 yen/mo/member
This plan will have you sign up and use the service online.
In this system, the Project Owner will pay for the license fees of all members for the month through credit card payment.
This will allow the service to accommodate any changes in project member numbers flexibly.
If the project owner is the same, you can use an unlimited number of projects and file storage for the price of all member licenses.
The service can be used for free until the coupon credits from new members run out.
Credit card payment will reflect the number of members for the month. For those with a set license number, direct bank payment is available.
A one-time bank deposit for a year of the service is available with a 10% discount.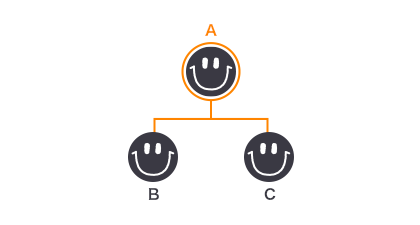 Example: In the case of 3 members
A (Owner) + B&C (members) = 1,500 yen per month
Please be aware that even with the same members, changing the project owner will add additional fees.
For license purchases for organizations, business contracts are recommended.Please contact us here.
You may transfer to a business contract during the use of the service.
Invoices and receipts will be issued for both bank deposits and credit card payments.
On-Premise version (360,000 yen per year)
This plan installs Mammoth Project into your company's server.
The fee includes the annual payment for 150 licenses and 16 hours of troubleshooting support.The installation will be done by our company's engineers.The contracted company will be responsible for updates. Necessary files and instructions will be sent. The option to migrate from the Basic Online version is available. Additional operations will be necessary for migration. Installation/migration fees will be charged separately (a typical operation will cost 50,000 yen each).
The following are the minimum server specs required for installation (as of 2019/06). Please contact us here for middle-ware and environmental aspect confirmations.
AWS Usage Requirements

EC2 t2.medium (1 base) EBS 100GB
OS: Amazon Linux
Services Used: EC2、S3、SES
Hardware Preparations

CPU: Intel Xeon family(3.3GHz)
Memory: 4GiB
Storage: 100-200GiB SSD/HDD
OS: CentOS 7.4/Red Hat Enterprise Linux 7.4
Private Cloud version (600,000 yen per year)
This plan creates a private instance for the company to use through AWS.
Since the application and database are separate from each other, this version is highly secure.
This version also includes settings such as Basic access authentication, IP address restrictions, and VPN connections, making it as secure as a private server.
Payment includes the fees for 150 licenses, initial setup, operation, and updates.
This is an economic plan with high security and reliability.
Request for Business Plan
This section will go over the basic installation process.
The Basic Online version (business contract) can be installed within a few days.The On-Premise version and Private Cloud version can be installed within 1 to 2 months.
Send an inquiry through our Contacts
Contact us here or via email to askmmth@paradiseware.net. Please inform us of your desired plan and number of members.
We will respond to you typically within 24 hours. We will deliver a quotation typically within 2 to 3 business days. Please send us necessary documents such as security sheets through our email. We will respond to you with server spec, OS, and middle-ware requirements for requests for the On-Premise version.
Please contact us with 2 to 3 available dates for meeting requests. While we typically request an online meeting through applications such as Zoom for non-metropolitan locations of Japan, direct meetings are possible depending on the scale of the installation.
Plan Installation Date (Only for On-Premise and Private Cloud plans)
Please contact us to plan a date for the server/private cloud installation. Please contact us accordingly if there are any needs involving our contract separate from the terms of service.
Post-Installation Inspection (Only for On-Premise and Private Cloud plans)
Around one week after installation, we will conduct a service inspection. After the inspection, we will send you an invoice.
Support After Installation
Please feel free to contact us with any questions and inquiries after the installation. Troubleshooting support up to 16 hours is free as part of the On-Premise and Private Cloud plans. We will contact you 1 month prior to the end of your contract to confirm its extension.