Hello from the Mammoth Project Dev Team.
To our English-speaking readers: thank you for your patience! We have finally unveiled our official English website!
We also have some news regarding the development of Mammoth Project Version 2 (Codename: Pteranodon).
Revamped Official Website Updates
Updates covered in the revamped official website are as follows.
Release of the English Website
How to Make the Most of the Mammoth Project
1. Release of the English Website
While the Mammoth Project UI itself has English language support, the release of the official English website has paved the way to easy-to-understand explanations and technical support for English-speaking users.
Please feel free to contact us in English if you have any inquiries or requests.
2. How to Make the Most of the Mammoth Project
While Mammoth Project is a revolutionary tool designed to efficiently share the overall set-up of projects with your team and other personnel involved, we have received requests to provide more detailed explanations on some features that are often overlooked.
The "How to Use" page has been updated with explanations alongside project workflows so that everybody can easily use these tools to their full potential.
Please feel free to use this page as a manual when first implementing Mammoth Project, as well as for familiarizing new members and transferring duties.
How to Use the Mammoth Project
https://mmth.pro/howtouse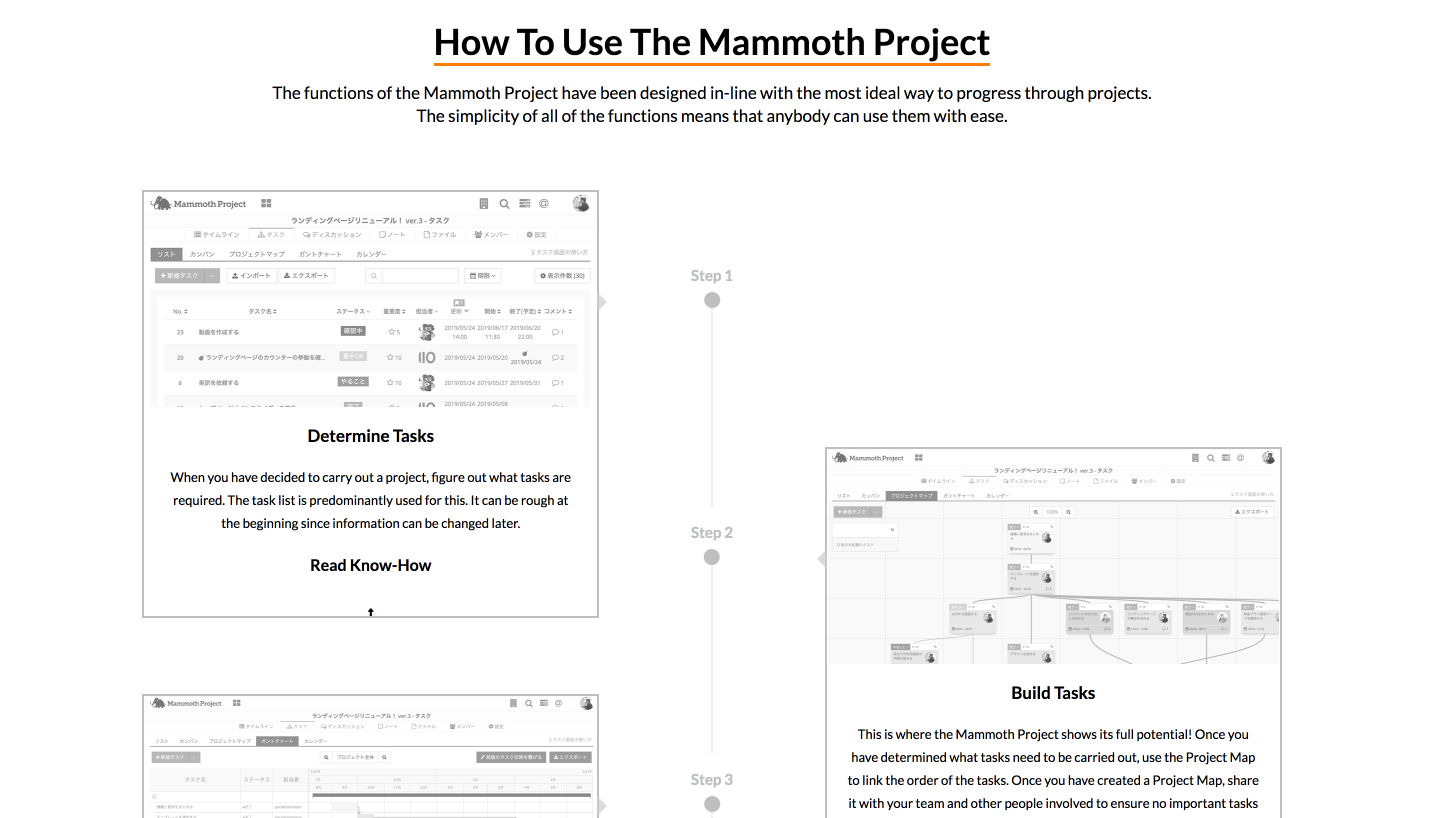 Version 2 (Codename: Pteranodon) Development
Thanks to our many requests, we have continued to improve Mammoth Project ever since it was released in June 2016.
While we have been able to provide a product to improve the efficiency of on-site project management to our customers through these improvements, we are currently working on the development of Version 2 (Codename: Pteranodon) in order to further meet your needs.
Version 2 aims to not only continue supporting efficient task management within the project, but to also cover a wider perspective, such as individual task schedules and progress of projects within an organization. Thus, we have given it the codename "Pteranodon".
Below is a screenshot that shows the work status and task schedule of a member that has been assigned a task (changes may be made as the project is still under development). We are working to make this a handy tool by implementing features such as this one so that members outside of the project – including business owners and other external personnel – are able to grasp the project status for themselves.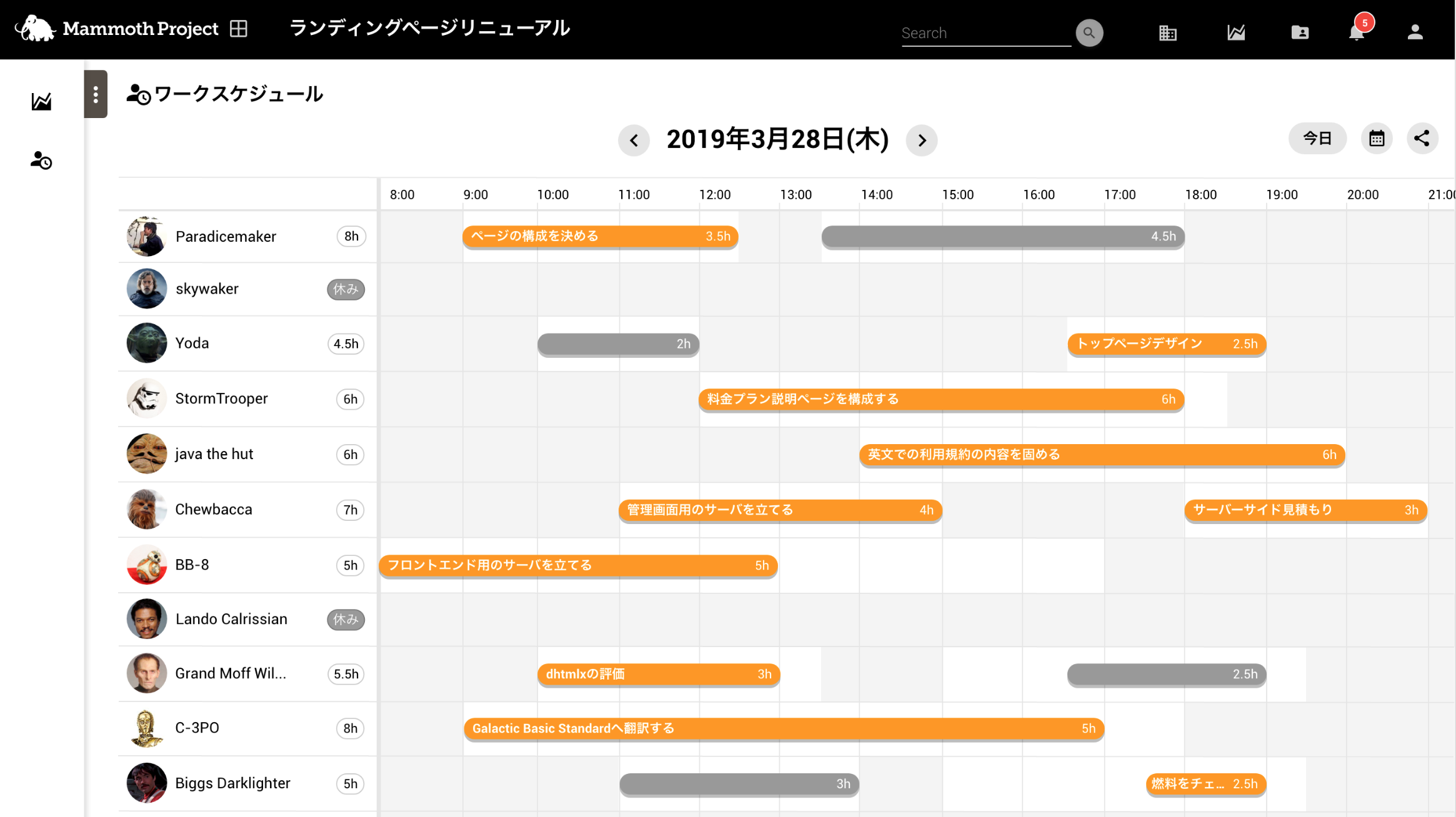 Version 2 will include the features mentioned below whilst maintaining the usability and simplicity of the current version's main features.
1. An all-new design.
2. Display a list of all projects.
3. Display project hierarchy (visualization of main and sub projects).
4. Input project estimates/results and display progress based on these figures.
5. Display the consumption of workload/time/budget.
6. Visualization and confirmation of members' assignment status and task schedule.
7. Addition of sub tasks.
8. Move and copy tasks between projects.
9. Set repeated tasks.
10. Real-time display of updated information.
11. Improved processing speed.
Due to overwhelming demands, we are planning on implementing Gantt Chart task sorting not only to Version 2, but to the current version as well. This will be scheduled for release in July.
Version 2 is currently scheduled for release by first half of the year of 2021, but this is subject to change.
We will make an announcement on the official website and to registered users before it is released.
There will also be a new fee schedule with the release of Version 2; corporate contractors who apply prior to the update will be offered the old rate for a maximum of one year.
Please contact us through the email address below for any inquiries and applications, or requests for Version 2.